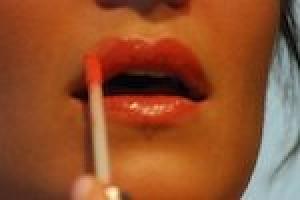 Picture: Jackie Popp
Worth $50 billion in the U.S. alone, with Asia a close second and gaining speed, the $170 billion beauty industry conspires to convince women that our fates depend on our looks which depend on what we spend. In this equation, ugliness -- as society sees it -- can be remedied like a disease, if you just spend enough. Refuse to buy? Your face and fate are your own fault.
But is a MAC Haute & Naughty Lash mascara really worth $18? When industry meets beauty, what does "worth" even mean? Are cosmetics' ingredients so rare and precious and labor-intensively processed as to merit these prices?
No -- we're just being bamboozled by huge markups, says cosmetic chemist Perry Romanowski, one of the minds behind BeautyBrains.com, a site that answers users' questions about science and cosmetics.
Some skin-care products you can buy in Sephora cost about $2 to make, but then are on sale for $300. Other skin-care products can be made for 50 cents and are sold for $2," says Romanowski, whose many books include Beginning Cosmetic Chemistry. And although the actual percentages of the markups is a trade secret that companies don't reveal, "in general, these products are not using ingredients so expensive that they would warrant the cost. No anti-wrinkle cream is worth $150. In fact, any product over $25 is a waste of money.
Essentially, the price of cosmetics is related to the image of the brand," Romanowski says. "Premium brands demand premium prices," because they can.
Sometimes they will have expensive packaging, which adds to the price. But overall, the vast majority of the rest of the markup is due to marketing costs. All that advertising you see is paid for by cosmetic product markups." Fancy bottles, seductive names, and the fees of creatives who design them add up. So do the salaries of corporate spokesmodels, whose glossed-and-powdered gazes say "Buy this and look like me" but really mean: "As if." Nicole Kidman, Emma Watson, Keira Knightly, Lily Allen, Vanessa Paradis: They're not $5 whores, and each has worked as the face of Chanel.
Lots of very expensive products contain little more than wax and water with almost nothing else of benefit for the skin," says Paula Begoun, a makeup artist-turned-cosmetics industry expert who runs CosmeticsCop.com and whose books include Don't Go to the Cosmetics Counter Without Me.
Cosmetic companies are acutely aware of the anxieties consumers have about aging and other skin concerns. They know what consumers want to hear," Begoun says, "and they claim exactly that, even when it isn't true. Hope springs eternal, and a lot of people are willing to pay a lot more than is necessary for a product that promises to fix whatever bothers them.
The words, the ads, the whirl of milks and muds and minerals and miracles, half-promise metamorphosis and happiness. They are elixirs: half-drug, half-religion. I was recently given a box of skin creams promoted by Cindy Crawford under the brand name Meaningful Beauty. The very sight of that name hurts, it's so insidious.
Would Cindy Crawford lie?
The prices of cosmetics are based not on the value of their ingredients but rather on other factors: packaging, marketing, and the simple fact, Begoun says, that cosmetics consumers actually believe "more expensive" means "better." They also believe that certain products or brands -- such as those boasting European provenances --convey higher class.
This explains why companies like Estée Lauder own the high-end LaMer as well as Clinique. Both sell skin-care products making the same claims but with extremely different price points.
Priced at $130 an ounce, Creme de la Mer contains a trademarked ingredient called "Miracle Broth." A video at CremeDeLaMer.com features aerial footage of a spectacular shoreline superimposed with a written narrative (lacking punctuation and certain key words): "The miracle begins at the heart a rare sea kelp harvested only twice a year off the coast of California traveled fresh on ice to the Max Huber research labs." Here the scenery switches to a lab: Cue lab coats, rubber gloves. Science sells. "Combined with natural ingredients." (More on this word "natural" later.) "The miraculous process of biofermentation begins." (More science!) "Like making grapes into wine." (Wine = class.) It goes on to tell of inventor Max Huber "harnessing unique energies that boost the activity of the broth." (Psychedelic sunburst imagery.) "He harnessed sound." (Image of what looks like spinach whirring in a blender.) "And light." (Further sunbursts, then back to the lab: gloved finger, beaker.) "Same DNA as the original ingredients transform over three to four months the sum is greater than its parts a powerful healer the miracle broth the heart of La Mer."
When La Mer first appeared in American stores nearly 10 years ago, it cost nearly twice as much as even the fanciest skin creams. It sold like high-priced hotcakes. Today the line includes a $200 half-ounce jar of eye cream and a Ritz Cracker-sized, $55 tub of lip balm. That's nothing. A 1.7-ounce jar of La Prairie Cellular Cream Platinum Rare, allegedly containing platinum, sells for $1,000 at Nordstrom and other department stores. "Modern science has shown platinum to be not only one of the rarest elements on earth, but most astonishing in its abilities," reads a promo.
Science, again. And class.
Low-cost cosmetic products are generally as good as the high priced ones," says Romanowski, who recommends humble mid-range Olay as having "probably the best technology available." When he and his colleagues at BeautyBrains tried to investigate platinum's alleged benefits for the skin, they found very little research, thus very little evidence.
Take a step back from the cosmetics counter and the rhetoric used to sell these products, this pinwheel of enchantment and condescension whose linchpin is your potential self-loathing, invokes fury and pity. True, no one is forcing consumers to buy these products. And buy they do: Even in this economy, sales are on the rise at Elizabeth Arden, Estée Lauder, industry leader Procter & Gamble, and other companies. In a looks-driven world -- and America is not alone in its looks-drivenness; ask any Harajuku girl -- it's hard to dodge the feeling that you're just not trying hard enough.
It's worse now than ever," says Stacy Malkan, cofounder of the Campaign for Safe Cosmetics and author of Not Just a Pretty Face: The Ugly Side of the Beauty Industry (New Society, 2007). Despite two waves of feminism, "there's still huge pressure on women to look differently than we do and to buy products that we think will make us look like these insanely unrealistic images of airbrushed models who aren't even human. Photos of even the most beautiful women are computer-generated to make them look thinner and even more conventionally beautiful.
When you pay a lot for cosmetics, Malkan says, you're paying a lot for dangerous chemicals such as phthalates and DMDM hydantolin that have been linked with cancer, asthma, allergies, and fertility issues. The average American woman uses 12 beauty products every day, exposing herself to about 160 different chemicals, Malkan says.
Most of these chemicals have never been assessed for safety. There are no requirements for cosmetic companies to assess the chemicals in their products for safety.
Her organization fueled the Safe Cosmetics Act of 2010, which was introduced into Congress this summer. Until it passes, if it passes, cosmetics companies can use the terms natural, organic and hypoallergenic on products that are anything but.
There are no legal standards for the use of such words on cosmetics," Malkan says. "There are no laws to prevent it and the FDA has no authority to prevent it.
Meanwhile, Romanowski warns that it's nearly impossible for the average consumer to read between the product-label lines.
The things that irritate us the most are the companies who claim that they are more 'natural' than standard cosmetic products. They claim things like 'paraben-free' or 'sulfate-free' as if there is something inherently safer or better. They aren't safer for people. 'Natural' products are not better.
He and his fellow BeautyBrains cite the dangers of natural ingredients that appear in many expensive cosmetics: For instance, olive oil slows the recovery time of damaged skin. Both lavender oil and tea-tree oil, they say, can cause breast-tissue growth in teenaged boys.
Meaningful Beauty? Yeah, right.
Rufus is the author of several books, most recently The Scavenger's Manifesto (Tarcher Press, 2009). Read more of Anneli's writings on scavenging at scavenging.wordpress.com.
This article was originally published by Alternet. SACSIS cannot authorize its republication.