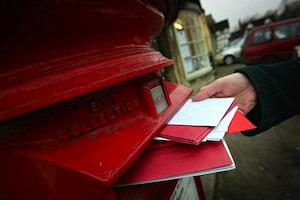 Picture: Chicken Smoothie
South Africa's Post Office has effectively ceased to function over the past three months, turning this once successful and strategic state-owned enterprise into a dead letter box. The recent agreement between unions and management will not solve its ills. Even before this latest strike it was, along with many of its international counterparts, in deep trouble. But perhaps there are ways to reform this much maligned government run corporation to truly reform this once important institution?

People across the world have an increasingly ambivalent relationship with national postal systems. They have historically provided essential and reasonably priced services to shift important communications around the country and world, but increasingly frustrate customers with queues, inefficiency, inflation and a lack of personalised service, and governments with rising costs.

So, has the national Post Office and the national postal system, as we know them, become redundant in an age of almost universal instant electronic communication? This question has been asked but inadequately answered by those responsible for planning, running and managing the South African Post Office.

Despite the wish of many South Africans to disband or privatise our Post Office, this is not really an option. We are obliged, as a member of the international Universal Postal Union, to guarantee a suitable level of postal delivery to citizens. Therein lies the rub. Accordingly, it appears more practical to improve the model to suit our needs rather than dump the entire system.

Two decades ago most global communications were directed through what is now disparagingly referred to as snail mail, the conventional postal system. Volumes have fallen to less than half in many categories of conventional mail over the past decade alone. The United States, responsible for almost half the world's conventional mail, has seen volumes decline by around 20% since 2009. This pattern is set to continue globally.

South Africa has managed to combine this essential problem with a fundamental collapse in the reputation of the Post Office. Theft and losses have seen users willingly shift toward expensive commercial courier companies. Things became so bad Amazon, the world's largest mail order company, refused to direct its packages through the South African system.
But it is more than reputation that has shifted customers toward courier systems. We are immersed in an impatient age of electronic immediacy. The recent growth of couriers like DHL, FedEx, UPS and many other local and regional players has demonstrated the growing demand for fast, efficient service by both corporate and private customers.

This is allied to the increasing desire of many national governments to privatise postal services, driven by two main factors. Firstly, elected governments and administrators find it difficult to justify the increasing red ink flowing from parastatal postal services. Second, corporate entities have cherry-picked the most lucrative opportunities offered by increasingly business-friendly governments. The private sector has eagerly adopted the most profitable sections of these public private partnerships while asset-stripping and selling off non-profitable entities.

This market-friendly approach sought to reduce costs, mainly by laying off staff and out-sourcing. Redundant staff are then re-employed, usually part-time, at reduced pay. Those closest to pensionable age are cast aside to free up pension funds for "reinvestment" elsewhere.

This model has been especially popular in developed nations where political control has shifted strongly to the corporate influenced right wing governments. However in developing nations like South Africa, where unions are strong, this route has been avoided. Similarly, many other developing nations continue to run postal services at steep losses.

Interestingly, South Africa has much in common with its BRICS partners. It should consider the route these countries are following, rather than pursuing the market-driven growth model that has actively undermined the supposedly "developmental state" of the past two decades.

South Africa, like Brazil and China, seeks to roll out banking services via the Post Office networks though the yet to be registered Post Bank. The Post Office already has savings facilities, along with a rather clumsy money transfer system.
The Indian model has pursued a state-assisted savings facility with rates exceeding those available through the conventional banking system. This has provided India with savings accounts for over 10% of the population, with an average of more than R7000 in each account. Micro-loan facilities, which enjoy high repayment rates, have also been successfully rolled out.

South Africa could readily link its extensive social services system to such a banking network, enabling the state to move beyond emergency assistance by providing the tools to leverage to assist entrepreneurial activity. Perhaps linking these to the generally inefficient Thusong centres, a totally reformed, development oriented version of the Post Office could emerge.

Brazil has gone down this road and managed to deliver a service that, like India, has had significant benefits in neglected, poor rural areas. The Brazilian Post Office partnered with the country's largest commercial bank, rolling out postal banks to 96% of previously unbanked rural municipalities, while also offering micro loans and premium savings accounts. Through these and other reforms Brazil has significantly decreased social inequality, particularly during the past decade.

Even China, the most centralised and bureaucratic of the BRICS partnership is gradually shifting toward this sort of model of cross-fertilisation of banking, ICT, social and postal services. But like India and Brazil, there appears to be an intrinsic reluctance of workers in the sector to embrace these changes.

There is clearly a distinct need for a suitable model of cross-subsidisation as the postal landscape changes. As a purportedly developmental state, with a significant degree of social spending, we are ideally placed to put an institution such as the Post Office at the centre of change, and the government has fortunately identified this reality.

However initial attempts to reform the Post Office were largely top-down and not undertaken in response to social requirements. Many urban post offices were expensively refitted, many with public computer terminals that were never used. The new counter computer system has profoundly frustrated postal staff. These top-down managerial dictats need to be curbed.

It would be both pragmatic and democratic to first ascertain exactly what types of services are required by those who are served by the Post Office system and only then roll these out. It will certainly not be a one size fits all. These services should link people to markets, cities to the countryside, and leverage these mechanisms as growth multipliers, while stemming our unsustainable urbanisation.

It is also of concern that the incumbent Minister, Siyabonga Cwele may lack suitable skills or vision to drive this important transition. More relevantly, can the mechanisms central to free and open national communication service like the Post Office be trusted to a securocrat, particularly one central to forcing through restrictive legislation such as the much maligned Protection of State Information Bill?

It is also surprising omission that that the National Development Plan does not clearly set out the role of an institution such as the national Post Office. These things aside, the time is surely ripe to have a national debate about exactly what is needed and then figure out how to roll out an improved version of the tired old lady who continues to masquerade as a Postal System.