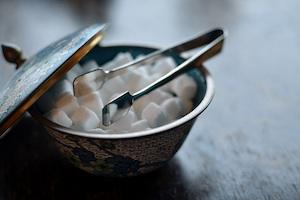 Picture: maaco/flickr
Nicolette Hahn Niman, author of Righteous Porkchop, just coined a new catchphrase that ought to go viral: "Sugar is NOT just an empty calorie."

Her statement contradicts the notion we've had for years that the worst thing about sugar is its lack of nutrients. Either you're eating sugar in addition to all of the calories you need to stay healthy, or you're eating it instead of them. In the former case, you're getting too many calories; in the latter, you're getting too few nutrients. This idea is so dominant it was recently cited in an anti-sugar op-ed in the Guardian.

Even if that was the case, we're eating too much sugar. Or, more specifically, too much added sugar. Sugars that are naturally present in whole foods like fruit are okay; it's the sugar added to whole foods that we must worry about. Previously, the World Health Organization said we should limit consumption of added sugars to 10 percent of calories. Even then, more than seven in 10 Americans ate too much sugar. On average, about 15 percent of our calories came from added sugars.

But now WHO is considering cutting its recommendation in half. That means limiting sugar consumption to five teaspoons, the amount found in half a can of soda. The American Heart Association has long recommended that women limit added sugars to six teaspoons and men stick with nine or less. (For those looking for a loophole, this means all added sugars, including so-called healthier sweeteners like maple syrup, agave, honey, or even fruit juice.)

Niman was examining the health impacts of sugar at the same time as WHO. In researching and writing her latest book, she dug into studies that found evidence sugar does more than just lack nutrients. "The sugar is going to actually damage your body. It's not just that you're not going to get the nutrients," she said.

The link between sugar and disease is not a new one. Decades ago, nutrition professor John Yudkin wrote a book called Pure, White, and Deadly in which he posited that sugar was the culprit behind heart disease and type 2 diabetes. The food industry fought back. This was the era of lowfat, not low sugar. (In his book, Yudkin even quotes a sugar industry advertisement claiming that sugar makes you thin. Go figure that out.)

The general term "sugar" can mean any number of things. Table sugar, or sucrose, is composed of a glucose molecule bonded to a fructose molecule. Glucose is what plants make during photosynthesis and it's half as sweet as table sugar. Fructose, naturally found in honey and many fruits, is 70 percent sweeter than table sugar.

On your tongue, you taste a difference in sweetness between glucose and fructose. Once in your body, the difference continues. Glucose is metabolized by every cell in your body. After you eat, your blood glucose levels rise, and your body releases insulin. The insulin helps your muscles, fat and liver absorb the glucose, decreasing your blood sugar. Levels of another hormone, leptin, also rise. Leptin regulates your appetite; once you've eaten and your body has plenty of fuel to keep going, leptin tells you to stop. Another hormone, ghrelin, decreases. Ghrelin stimulates your appetite, and after you've eaten, it's already done its job.

Fructose, on the other hand, is only metabolized by your liver. The title of a 2004 study says it all: "Dietary fructose reduces circulating insulin and leptin, attenuates postprandial suppression of ghrelin, and increases triglycerides in women." In other words, after you eat fructose, your body never gets the message, "You've eaten enough, now stop." As for those increased triglycerides, well… another word for triglyceride is "fat."

In scientist-speak, "Compared with glucose, the hepatic metabolism of fructose favors lipogenesis, which may contribute to hyperlipidemia and obesity." Translated, that says when fructose is metabolized in your liver, it is often converted to fat.

These facts about fructose are often cited in arguments against high-fructose corn syrup, but remember that sucrose, honey and even apple juice contain lots of fructose too.

One consequence of overdoing it on sweets is called "metabolic syndrome." That's a medical term for a number of risk factors for heart disease, diabetes and stroke: a large waistline, bad cholesterol, high blood pressure, and high fasting blood sugar. In fact, fructose and sucrose are such reliable causes of metabolic syndrome that scientific papers often use the terms "fructose-induced metabolic syndrome" or "sucrose-induced metabolic syndrome."

Some scientists add other evils to the list, including kidney disease and stroke. A 2010 study found that "Fructose feeding has now been shown to alter gene expression patterns… alter satiety factors in the brain, increase inflammation… and induce leptin resistance."

If that sounds so bad that you decide to switch your sweetener to pure glucose (sold under the name corn syrup, and not the high-fructose variety), keep in mind that an influx of glucose into your body spikes your blood sugar, followed by a crash. This is especially true when the sugar comes in liquid form. Your body also breaks down complex carbohydrates like whole grains into glucose, but then the glucose is released more slowly into your bloodstream. In 2013, scientists found that lower blood sugar may even improve memory.

All in all, one report estimates "30%-40% of healthcare expenditures in the USA go to help address issues that are closely tied to the excess consumption of sugar."

The sad truth is that there's no free lunch. Even when you eat "sugar-free" cake sweetened with honey or fruit juice, it's all sugar to your body. (However, raw unprocessed honey provides some health benefits, whereas refined sugars do not.) For an experiment, go a day with only six teaspoons of sugar (25g) if you're a woman, or nine teaspoons (38g) if you're a man. Don't forget to check foods you wouldn't expect for hidden sugars, like bread, salad dressing, pasta sauce, and ketchup. Suddenly, the amount of sugar we eat in our normal diets becomes staggering.

Longer term, if a complete sugar makeover sounds unimaginable to you, start by cutting out sugary drinks, including fruit juice. You might want to skip the diet sodas too, since research shows they can be even worse than the "real thing."

If your heart is palpitating with dread at the very thought of giving up sugar, you've arrived at one of the reasons why we eat so darn much of it. Some say it's addictive, and a 2007 study found it gives your brain a reward even greater than that of cocaine.

In his book The End of Overeating: Taking Control of the Insatiable American Appetite, former FDA commissioner David Kessler examined what drives wanting in food. "Liking is pleasure but wanting is an urge to it," he explains. "I need it, I need it to make me feel better. We looked in animals to see what was the most reinforcing. Was it the sweetness? Was it the fat? Was it the flavor? We found that sweetness drives wanting more than anything else. It drives—if you look at animals or people—how much effort they'll expend for it. How hard they will work for it."

You've heard the old adage, "A moment on your lips, a lifetime on your hips." The pleasure gained from food is so fleeting. If I eat a cookie now, I will experience a few moments of pleasure, and then no more. I can extend that pleasure briefly by eating a second cookie. And then it's gone. To keep feeling that pleasure, I would have to keep eating cookies—at least until I feel sick from eating too many. Yet many of us are more than willing to continue jamming cookies down our throats even if we want to be healthy and we know that cookies are not health food, for the ephemeral bliss they provide.

"We know that sweetness can increase the pleasure centers of the brain, the opioid centers," Kessler continues. "We know it can serve as a mild pain relief… I'm eating something that is sweet—it can change how I feel. So it's salient. It is powerful. It's directly hard-wired from our sensory receptors in our mouth to our brain. You don't even have to go through the bloodstream. It's a very powerful molecule because it's directly wired to our brain. And it can drive want."

He adds that, "Sweetness isn't the only driver of wanting. Add fat to that, it becomes more powerful. Add color, add texture, add temperature, add mouthfeel. Kids' candies are just very simple, but as you get older you want more levels of stimulation. But at the core of most foods that are hard to resist there is sweetness. Now a lot of that has to do with past learning and past memory. It's not always sweetness, depending on your past learning—but there's no doubt that sweetness is driving."

Kessler goes into even greater detail in his book. He looks at the impact of priming, when a single taste of a food triggers what he calls "conditioned hypereating." He points out how the food industry taunts us, "Bet you can't eat just one." Sadly, that is probably true. Even if you're not particularly hungry, after a friend convinces you to have "just a taste" of ice cream, you're more likely to order an entire cone. Why do you think Whole Foods is so generous at giving you free samples of its cakes and gelato?

Kessler, and later Michael Moss (in his book Salt Sugar Fat) examine how the food industry capitalizes on our hardwired drive for sugar (and salt and fat). Moss details food manufacturers' efforts to improve their products nutritionally without sacrificing flavor (or sales) or increasing price. Sometimes, a healthier but higher priced substitute, like an herb, could compensate for salt, sugar and fat. More often, when the manufacturers reduce one of those three elements, they compensate by boosting one or both of the other two.

In response to her research, Nicolette Hahn Niman almost entirely gave up sugar. She limits herself to a few squares of dark chocolate each day, and she reports that she's kicked her sugar habit, and the cravings that would make her fall back to it.

Eschewing sugar is not impossible, particularly after the initial cravings go away, but it can be difficult in our society unless you cook all of your own food. Even then, it can come off as socially gauche when you're dining with friends or co-workers and you're the only one who isn't gushing over the triple chocolate mousse cake someone brought to the party.

That said, there are other flavors out there, including salty, bitter, spicy, sour, and umami. Perhaps we Americans would do well to explore them.