March 2012
Visit the archives.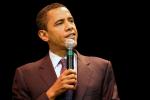 Tom Engelhardt - When I was young, the Philadelphia Bulletin ran cartoon ads that usually featured a man in trouble -- dangling by his fingers, say, from an outdoor clock. There would always be people all around him, but far too engrossed in the daily paper to notice. The tagline was: "In Philadelphia, nearly everybody reads the Bulletin." Those ads came to mind recently when President Obama commented forcefully on war, American-style, in ways that were remarkably radical. ...

There've been numerous media reports of National Union of Metal Workers of South Africa's (NUMSA) call for a "socially owned" renewable energy sector. Recently, The Real News Network, a US-based media outlet, talked to Cedric Gina, president of NUMSA about the significance of workers leading the transition to a green economy. South Africa is a country heavily dependent on carbon emitting fossil fuels, mostly in the form of coal, with seriously negative implications for climate...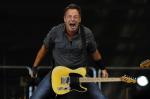 Richard Pithouse - In 1975 Born to Run, Bruce Springsteen's magnificent third album, crashed on to American radio with a dramatic lyrical intensity riding a rushing wall of rock and soul. Time and Newsweek put him on their covers in the same week and at 26 he found himself, along with Bob Dylan, as the newest avatar in the tradition of popular artists that, beginning with Walt Whitman and rolling on through Woody Guthrie, Lead Belly and John Steinbeck have brought a sympathetic poetic attention to the lives and...
Gar Alperovitz - On Monday (March 6, 2012), Bloomberg News estimated that Mark Zuckerberg, Facebook's 27-year-old founder, will be worth about $21 billion based on his company's forthcoming initial public offering. Although he won't qualify (yet) for a slot among the planet's richest 20 people in the Bloomberg Billionaires Index, Zuckerberg will still enjoy iconic status as an entrepreneur of mythic proportions. Indeed, the Wall Street Journal credited Facebook with creating "a new way of living,"...
Leonard Gentle - There is a very cynical, old apartheid era joke about English-speaking whites in South Africa to the effect that, "Most supported the Progs (Helen Suzman's old Progressive Party); voted UP (the old United Party of De Villiers Graaf) … and thanked God for the Nats". Meaning that it was okay to be disgusted by the racism and repression, but hell those Afrikaners knew how to run the economy -- and they kept everything functioning nicely. With the exception of the...

Over the last 15 years we've seen the emergence and growth of the practice of labour broking in South Africa, which places workers, particularly those employed on the lowest rungs of the South African economy, in a very precarious position with respect to job security and a host of related quality of life indicators. Ighsaan Schroeder of the Casual Workers Advice Office explains Why Cosatu called for a general strike against the practice of labour broking. However, he argues that the trade...