July 2013
Visit the archives.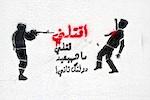 Deadly violence is continuing in Egypt after the military ouster of President Mohamed Morsi. On Monday July 8, at least 42 people were killed at the military site where Morsi is being detained. Meanwhile Mohamed ElBaradei, a Nobel peace laureate and former head of the UN's nuclear watchdog, the IAEA, was tapped for the post of prime minister, but the decision to install him as PM was vetoed by an Islamist group participating in Egypt's political process. However, Tamarod, the campaign...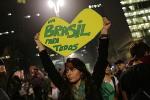 Glenn Ashton - Media coverage of the Obama-crew's flash-mob blitz of South Africa showed the extent to which we have allowed ourselves to be policed by a force that continues to display apartheid era tactics. While Obama was touring Soweto legal demonstrators were treated to percussion grenades and teargas for protesting too vigorously. South Africans have a proud history of peaceful protest, from the women's march on Pretoria in the 1950s, the pass protests into the cities across the nation...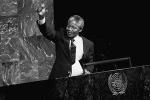 Francis Njubi Nesbitt - Take your guns, pangas, and knives and throw them into the sea. –Nelson Mandela. "Who is this man Mandela?" The U.S News & World Report asked in January 1990. Apparently no one much knew, since the magazine could only come up with three short paragraphs about the ANC leader. This sketch of Mandela's life seemed to be drawn from a Who's Who collection, detailing his early education, legal practice, and arrest by South African authorities in August 1962. Referring to him...
Sreeram Chaulia - Historic change eventually comes via small and modest beginnings. The current revolts in Brazil and Turkey actually started in low-key fashion at least one decade ago. Had they been spotted earlier, there would be less befuddlement about explaining the genesis of the mass protests that have mushroomed to force the governments of Brazilian President Dilma Rousseff and Turkish Prime Minister Recep Tayyip Erdogan to rethink their policy paths. Brazil's middle and working classes shot to...

"Does the media have a human rights agenda?" SACSIS' Fazila Farouk put the question to William Bird, Director of Media Monitoring Africa, an organisation that tries to hold the media accountable to human rights principles. Bird argues that editorially there is a very clear bias in favour of the Constitution in South Africa, but in trying to see if that translates into overall trends in reporting, and specifically a human rights bias, then the answer is very clearly no....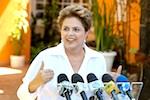 In the third week of social unrest related to Brazil hosting the 2014 Soccer World Cup, President Dilma Rousseff, met governors and mayors to discuss demands being made by those protesting on the streets. Brazilians are outraged that millions are being spent building stadiums when the country's public services, such as transport, are unable to meet the needs of the population. In response to the protests, President Rousseff promised to invest $25 billion in public transport and...