Keyword: 2014 General Elections South Africa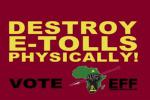 Jane Duncan - In a disappointing but not altogether unsurprising move, the communications regulator, the Independent Communications Authority of South Africa (Icasa) has leapt to the defence of the censorious state broadcaster, the South African Broadcasting Corporation (SABC) and confirmed the de-facto ban of two opposition political advertisements for the national elections. Icasa is tasked with ensuring fairness of coverage for political parties during the electoral period. However, the fact that...


In a wide ranging interview covering the massacre in Marikana, a turning point in South Africa's history, Prof. Patrick Bond of the Centre for Civil Society at the University of KwaZulu Natal talks to Paul Jay of the Real News Network about the shifting sands of South African politics, workers' struggles and metalworker's union, Numsa's new initiative to establish a movement for socialism as well as launch a workers' party. According to Bond, a workers' or labour party could emerge to...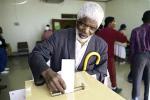 Mohamed Motala - For middle class South Africans it is a perplexing contradiction that the ANC continues to stay in power despite all the evidence of corruption displayed at the highest level of leadership and the party's collusion with big corporations that are directly involved in the killing of poor workers. Against the backdrop of Nkandla and Marikana, the seemingly automatic laws of democratic practice enshrined in our Constitution through mechanisms that allow for mandate, accountability and...
Glenn Ashton - The Democratic Alliance (DA) in power and Zille as President. What would South Africa be like? There are lessons to be learned from Cape Town and the Western Cape, which have been under DA control since 2006 and 2009 respectively. The party extended its majority by absorbing minority partners including the Independent Democrats (ID), handing its erstwhile leader Patricia de Lille the mayoral chain. There was a predictable outcry in 2009 when Zille appointed a white, male-dominated...
Richard Pithouse - In recent days Ronnie Kasrils has been referred to as 'a rebel, a Judas, a scoundrel', as 'Satan', and as a 'disruptive, reckless and counter-revolutionary' figure spitting on 'the long struggles and the sacrifices of our people'. Alistair Sparks, who is routinely introduced as 'Respected journalist Alistair Sparks' despite the fact that he's often little more than an unthinking hack for conservative orthodoxies of various...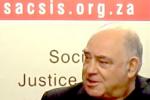 Speaking at a panel discussion on the question of nationalisation for South Africa, former Minister for Intelligence Services, Ronnie Kasrils, who was deeply involved in the negotiations during South Africa's transition to democracy explains how progressive people oriented policies such as the Reconstruction and Development Programme (RDP) were quickly shelved in favour of neoliberal policies such as GEAR (the Growth Employment and Redistribution strategy), which led to the...