Keyword: 2014 General Elections South Africa
Richard Pithouse - Being against [one form of] evil doesn't make you good. - Ernest Hemingway, Islands in the Stream, 1952 Over the last ten years or so there has been an extraordinary degree of popular protest in South Africa. The seemingly incorrigible elitism of the higher reaches of our public sphere has meant that, particularly in the absence of sustained formal organisation, popular protest has seldom won the right to represent itself in this space. For years the media, NGOs, academy and political...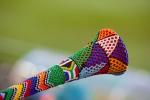 Fazila Farouk - Birthdays and anniversaries are treated as milestones for reflection by many people, so it's no surprise that Freedom Day, 27 April 2014, South Africa's looming 20th anniversary as a democracy has unleashed a barrage of commentary aimed at reflecting on the country's development. Debates are heightened by the fact that the momentous anniversary coincides with the country's forthcoming 2014 general elections. It's the 5th time that South Africans will go to the...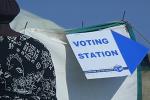 There is some reason to believe that the level of political freedom enjoyed by more affluent South Africans isn't enjoyed by people in poorer communities, argues David Bruce, an independent consultant conducting research on behalf of the Community Agency for Social Enquiry on political intimidation in the run up to South Africa's 2014 general elections. There are many poor communities "where the established system is one where a dominant party governs in that area and...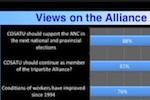 The state of the ANC/SACP/COSATU alliance is being hugely debated following an alliance summit last weekend in the aftermath of trade union federation, COSATU, suspending its general secretary, Zwelinzima Vavi. His suspension came after months of on-going speculation about strained relations and divergent objectives amongst alliance partners. In the run up to South Africa's 2014 general elections, a weak alliance is not a good sign for the ruling party that depends on the electoral support of...