Keyword: protests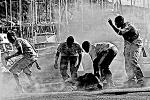 Richard Pithouse - Here we are, almost twenty years after apartheid and from the prisons, to the shack settlements and the farms, the riotous underbelly of our society is on television most nights. We're not even a full month into the year and its been reported that the police have killed another protester in the Boland and, depending on which newspaper you read, three, four or six people in Zamdela in Sasolburg. The new normal that we are being asked to accept after Mangaung has won consent in some...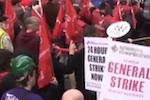 More than a 100 000 union workers, students and supporters converged on London on Saturday, October 20, to have their voices heard in a massive protest for a "Future that Works" against the Cameron government's austerity cuts. A call for a nationwide general strike from Britain's trade union leaders is imminent. Many of those protesting on Saturday carried banners that read, "24 Hour General Strike Now". Protestors believe that the government's strategy of austerity is...
Nicholas Pell - What a difference a year makes. It's hard to believe that this time in 2011, the world was abuzz over the Arab Spring. Flying in the face of the "death of history" narrative, the Arab Spring shocked the world by overturning some of its most entrenched authoritarian governments. Soon after, Occupy Wall Street became the American protest movement, both inspired by actions in the Arab world, as well as urging young Arabs on to further action. It seems pretty safe to say that the 21st...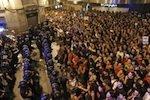 V. Noah Gimbel - As the sun rose on August 2, Spanish authorities destroyed the tent-village that had come to symbolize what some participants have called the Spanish Revolution. The ruling Socialist Party, via the Ministry of the Interior and in conjunction with the right-wing Popular Party that controls the local government, ordered Madrid's Puerta del Sol cleared of all remnants of the 15-M (May 15) movement as its participants, the indignados (the outraged) watched helplessly. Police boots, chainsaws, and...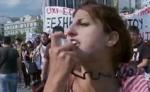 As this Democracy Now broadcast went to air, lawmakers in Greece were voting on — and later approved — a new round of sweeping austerity measures amidst a general strike that's brought tens of thousands into the streets. Riot police have fired volleys of tear gas, smoke bombs and stun grenades in a bid to clear the masses of Greek protesters surrounding the parliament in Athens. The chaotic standoff began Tuesday when police stormed the adjacent Syntagma Square, where...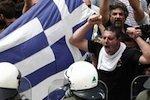 Mark Weisbrot - The European authorities are playing a dangerous game of "chicken" with Greece right now. It is overdue for U.S. members of Congress to exercise some oversight as to what our government's role is in this process, and how we might be preparing for a Greek debt default. Depending on how it happens, this default could have serious repercussions for the international financial system and the U.S. (and world) economy. The U.S. government has a direct and significant role...