Keyword: Irvin Jim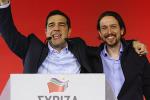 Fazila Farouk - Analysts argue that the expulsions of Zwelinzima Vavi and Numsa from Cosatu, by a faction sympathetic to President Jacob Zuma, have clear consequences for a major re-alignment of labour in South Africa. Perhaps more importantly it forces to the fore significant consequences for the re-alignment of politics in South Africa. Numsa, the radical metalworkers' union, is in fact hosting a "Conference for Socialism" this very week to determine whether the ground in South Africa...

Irvin Jim, General Secretary of Numsa, recently toured the U.S. on a speaking tour where he was also interviewed by Paul Jay of the Real News Network. In Part One of an in-depth interview, Jim talks about his early life and how a difficult life as the son of farmworkers in the town of Port Alfred led him to activism as a young teenager. In this fascinating exchange, Jim offers insights into his radicalisation, which included leading the Congress of South African Students (COSAS) where he...

In an extensive interview, Numsa's general secretary, Irvin Jim, talks to Fazila Farouk of SACSIS about Numsa's current strike, alliance politics as well as its United Front and Movement for Socialism. In response to a question about building greater solidarity between the middle class and the poor, Jim argues that Numsa's movement for socialism is not only for people who are "red". He says that the middle class has a right to live the kind of life that it...