Keyword: farm workers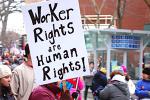 Anna Majavu - May Day 2015 has just been observed and celebrated by the global community, but around the world, including here in South Africa, hundreds of thousands of workers are toiling under "zero hours" contracts where they can get jobs, but never actually work or be paid. Under zero hours' contracts, workers have to guarantee their availability to employers, but in effect remain on unpaid standby all week waiting to be called to work. A zero hours contract worker may eventually only...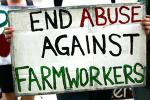 Femke Brandt - The Labour Relations Amendment Act of 2014 (section 198 of the LRA) introduces important new rights for labour broker, contract and part-time workers. Two issues emerge in relation to how these new labour rights affect farmworkers in the Karoo. Firstly, it is highly unlikely that the amendments will improve the lives of farmworkers directly. The introduction of more progressive rights for farmworkers is resulting in a backlash from farmers. Secondly, these new rights or yet another round of...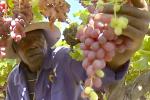 The Western Cape produces more than 80 percent of South Africa's table grapes and the Berg and Hex River Valleys are the country's primary production areas. Table grapes are among the world's most traded fruits and the prevailing climatic conditions in these valleys provide an unusually long eight-month window for production. IRIN's latest film, Land of Dust, looks at the conditions of the workers in the Hex River Valley, where long hours, low wages, poor health and education...
Anna Majavu - The mines and the farms are two enduring symbols of old white colonial theft, of the minerals and land. Because of the monopoly of the National Union of Mineworkers, whose leaders and officials have long preferred compromise and co-determination over worker control, it has been difficult for mineworkers to strike – until the Marikana massacre. It has possibly been even harder for farm workers to strike. Human Rights Watch estimated recently that less than 3% of South African farm...