Keyword: 20 Years of Democracy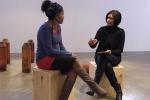 In reflecting on 20 years of South Africa's democracy, a group of artists in Johannesburg have tapped into the major themes in our ambient culture to emerge with a fascinating exhibition of artworks that distil some of the key issues dominating our national discourse at this important juncture in South African history. SACSIS' Fazila Farouk caught up with curator of the exhibition Farieda Nazier at the Ithuba Art Gallery and discovered that violence, censorship, racism, patriarchy and...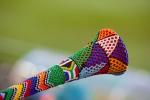 Fazila Farouk - Birthdays and anniversaries are treated as milestones for reflection by many people, so it's no surprise that Freedom Day, 27 April 2014, South Africa's looming 20th anniversary as a democracy has unleashed a barrage of commentary aimed at reflecting on the country's development. Debates are heightened by the fact that the momentous anniversary coincides with the country's forthcoming 2014 general elections. It's the 5th time that South Africans will go to the...