Keyword: minimum wage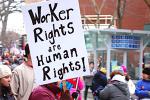 Anna Majavu - May Day 2015 has just been observed and celebrated by the global community, but around the world, including here in South Africa, hundreds of thousands of workers are toiling under "zero hours" contracts where they can get jobs, but never actually work or be paid. Under zero hours' contracts, workers have to guarantee their availability to employers, but in effect remain on unpaid standby all week waiting to be called to work. A zero hours contract worker may eventually only...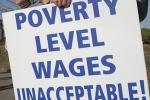 Frank Meintjies - Some workers earn nothing – they survive on tips. Some earn a daily rate that barely covers the costs of commuting to work and a square meal for the day. Then there are those who earn in the region of the median wage – about R3033 a month – but who fall prey to loan sharks and other debt collectors. For these and many other reasons, South Africa cannot but consider a single statutory minimum wage. The mechanism has the potential to help stitch together the frayed edges of...