Keyword: Ronnie Kasrils
Richard Pithouse - In recent days Ronnie Kasrils has been referred to as 'a rebel, a Judas, a scoundrel', as 'Satan', and as a 'disruptive, reckless and counter-revolutionary' figure spitting on 'the long struggles and the sacrifices of our people'. Alistair Sparks, who is routinely introduced as 'Respected journalist Alistair Sparks' despite the fact that he's often little more than an unthinking hack for conservative orthodoxies of various...

On 13 March 2014, The South African Civil Society Information Service and the Friedrich Ebert Stiftung (FES) South Africa Office co-hosted a panel discussion, 'Beyond Nationalisation', which interrogated how South Africa's mineral resources could be exploited to bring greater benefit to more South Africans. The discussion was opened by Renate Tenbusch, the Resident Director of the FES South Africa Office and facilitated by Fazila Farouk, Executive Director of SACSIS. Panelists Ronnie...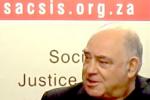 Speaking at a panel discussion on the question of nationalisation for South Africa, former Minister for Intelligence Services, Ronnie Kasrils, who was deeply involved in the negotiations during South Africa's transition to democracy explains how progressive people oriented policies such as the Reconstruction and Development Programme (RDP) were quickly shelved in favour of neoliberal policies such as GEAR (the Growth Employment and Redistribution strategy), which led to the...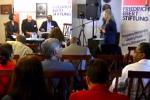 On 13 March 2014, SACSIS and the Friedrich Ebert Stiftung South Africa Office co-hosted a panel discussion about what kind of nationalization would best suit South Africa. We are pleased to see that the SABC 3 News team produced a superb report of our discussion, which aired on national television. SACSIS and FES hosted the event in an effort to contribute to an informed discussion on nationalisation and debunk myths surrounding it. We are delighted that the SABC reported that...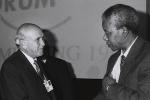 Paul Jay of The Real News Network talks to Danny Schechter, a journalist, author and documentary filmmaker who is involved in a new film called The Making and Meaning of 'Mandela: Long Walk to Freedom'. His latest book is Madiba A to Z: The Many Faces of Nelson Mandela. This interview looks back at the era of negotiations that ushered in South Africa's democracy 20 years ago and reflects on the enormous compromises that the ANC made when it came into power. According to Schechter, South...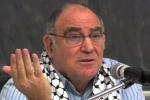 Chris Hedges - NEW YORK—What is it that makes a rebel? Why does one willingly step outside society to destroy a system of power, break the law and risk persecution and even death for an ideal? As the state calcifies into corporate totalitarianism, as prominent rebels such as Julian Assange, Bradley Manning and Edward Snowden are defamed by a bankrupt media and political class and hunted down as criminals, as change through the established mechanisms of reform becomes impossible, as systems of power...