Keyword: Evo Morales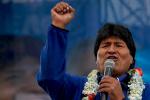 According to this CCTV America report, unofficial election results this week indicate that Bolivian president Evo Morales has won a third term. According to exit polls, he got about 60% of the vote. His closest opponent, Samuel Doria Medina, received just 25%. The government's economic stewardship as well as its dedication to spreading the benefits of the country's natural gas and mineral wealth to the poor has been key to Morales' re-election. At the same time the Wall Street Journal...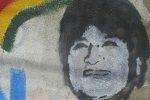 Benjamin Dangl - Bolivian President Evo Morales was re-elected on Sunday, December 6th in a landslide victory. After the polls closed, fireworks, music and celebrations filled the Plaza Murillo in downtown La Paz, where MAS supporters chanted "Evo Again! Evo Again!" Addressing the crowd from the presidential palace balcony, Morales said, "The people, with their participation, showed once again that it's possible to change Bolivia… We have the responsibility to deepen and accelerate...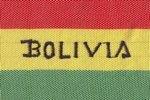 Mark Weisbrot - Evo Morales changed the history of Bolivia when he was elected in December 2005 as the country's first indigenous president, and the first to get a majority of 54 percent. On August 10, he expanded his mandate considerably in a referendum, with 67 percent of voters opting to keep him in office. The conventional wisdom in Washington -- where the foreign policy establishment is decidedly not sympathetic to Morales' populist agenda -- has been that the referendum would settle nothing. Bolivia...
Benjamin Dangl - In early July in Sicaya, Cochabamba, Bolivian President Evo Morales announced that if he wins the August 10 recall vote on his presidency, "I'll have two and half years left." But if he loses the vote, "I'll have to go back to the Chapare" to farm coca again. Though the recall vote is likely to favor Morales, it's unclear if it will resolve many of the divided nation's conflicts. This upcoming recall vote on the president, vice president and eight of nine departmental...