Keyword: mamphela ramphele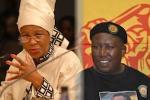 Richard Pithouse - (T)he horses have vanished Heroes hop around like toads - Pablo Neruda, Right Comrade, It's the Hour of the Garden, Chile, 1973 Writing after the French Revolution Immanuel Kant, the German philosopher, noted that "while the drama of great political changes is taking place" people "openly express universal yet disinterested sympathy for one set of protagonists against their adversaries". Kant did not deny the limits, or even the horrors of the French...


Paul Jay of the Real News Network talks to Patrick Bond about the African Mining Indaba that took place in South Africa last week. Bond is the director of the Centre for Civil Society at the University of KwaZulu-Natal. While the nationalisation of mines is off the table, Bond argues that what we are seeing in South Africa is "an intensification of class and state capital struggles over mining." Also watch this report for interesting remarks from Bond about the political...