Keyword: community participation
Glenn Ashton - South Africa boasts a constitutional democracy founded on a dual yet complimentary approach to governance. The first pillar involves elected representative governance and the second, participatory democracy. Each is constitutionally entrenched yet neither can operate in isolation. The dualism should ideally manifest as a harmonious continuum where we, the people, are not only able to elect our representatives but equally to inform, lobby and interact with them – and allied officials and...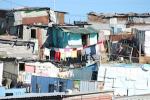 Felicity Kitchin - "People who live in the shacks have other people planning for their lives; whatever they get is not planned with them; there are people planning for them." – Resident of Siyanda, eThekwini Recent riots in Zamdela in the Free State have brought the issue of community participation in development decision-making into sharp focus. Zamdela revealed a complete lack of regard for an affected community's input into a key decision that would have far reaching implications...