Keyword: austerity cuts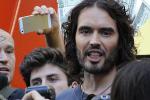 Not since the 1930's has a far left party been in power in a European democracy. Comedian, author, activist, and presenter of The Trews, Russell Brand contends that Syriza's win at the polls in Greece this week is a victory for compassion and a strong rejection of the values of corporatism. Brand says that he finds it exciting that an anti-capitalist party is in power in Greece. "The reason I am excited about this is because Syriza are approaching capitalism from a completely...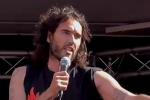 On June 21, 50,000 people marched through central London from the BBC's New Broadcasting House in central London to Westminster protesting against austerity measures introduced by the UK's coalition government. Comedian Russell Brand addressed the demonstration organised by the People's Assembly. He argued, "In the week that followed the 9/11 attacks, the bank account of every person that was involved in Al Qaeda was frozen. Their assets were frozen and taken away. Why are these...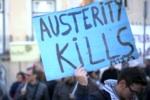 In their new book, "The Body Economic: Why Austerity Kills," economist David Stuckler and physician Sanjay Basu examine the health impacts of austerity across the globe. The authors estimate there have been more than 10,000 additional suicides and up to a million extra cases of depression across Europe and the United States since governments started introducing austerity programs in the aftermath of the economic crisis. For example in Greece, where spending on public health has been...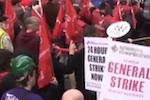 More than a 100 000 union workers, students and supporters converged on London on Saturday, October 20, to have their voices heard in a massive protest for a "Future that Works" against the Cameron government's austerity cuts. A call for a nationwide general strike from Britain's trade union leaders is imminent. Many of those protesting on Saturday carried banners that read, "24 Hour General Strike Now". Protestors believe that the government's strategy of austerity is...