Keyword: naked protest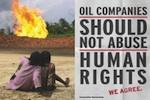 In San Ramon California where the headquarters of Chevron is located, there was recently protest action both inside and outside an annual share holders meeting. Emem Okon of the Kebetkache Women's Development and Resource Centre in the Niger Delta was given just two minutes to address shareholders at this meeting. Okon was a supporter of the powerful women's protest against Chevron for its environmental and human rights abuses in Nigeria, which garnered lots of international media...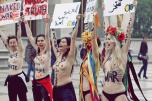 Gillian Schutte - In April 2009 women stripped half naked and took to the streets of Ado-Ekiti (Nigeria) to protest the rerun governorship election. Protesting under the title "Peace rally in support of democracy in Nigeria," the protesters gathered under the auspices of Ekiti Women for Peace and Development. Led by a former Commissioner for Women Affairs in the state, Chief Ronke Okusanya, more than 300 women, comprising the young and the elderly, took part in the protest over the delay in...