Keyword: wage negotiations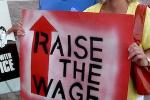 Dale T. McKinley - If capital is to be believed, it is the worker who is the main source of South Africa's contemporary social and economic problems. Every time the annual season of wage negotiations is about to begin, as it is now, representatives of capital unleash a tsunami of propaganda about workers' 'high and unaffordable' wage demands. Dire warnings of destructive social unrest/conflict, high inflation rates, poor competitiveness and generalised economic devastation roll off...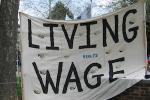 Ebrahim-Khalil Hassen - Wage negotiations in the public sector have reached an impasse. Unions have rejected a 6.5% wage increase offer from government, holding out for 8% and as well as a housing subsidy of R1500. Commentary on the state of negotiations is focused on themes of fiscal sustainability and performance in the public service. The propaganda of both government and unions focuses on winning the proverbial hearts and minds of communities, should a dispute be declared. Strikes seem a likely possibility...