Keyword: us election 2012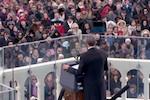 In Washington on Monday, Barack Obama began his second term as president of America with an inauguration speech. John Nichols, Washington correspondent for the Nation Magazine provides some perspective on the speech. Nichols is cautiously optimistic that Obama's next four years will be different. According to Nichols, "I have never seen Barack Obama as a progressive," but Obama does respond to pressure, so progressives should listen to what the president is saying and "raise...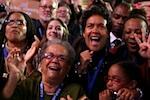 In this panel discussion hosted, shortly after American President Barack Obama was re-elected, Jeff Faux Founder and Distinguished Fellow of the Economic Policy Institute in Washington, DC contends, "One of the realities of this election was that it wasn't so much an Obama victory as it was a Romney and Republican defeat. Given the state of the economy, the Republicans should have won…They didn't because they've gone just too far to the right for the people to stomach…So I...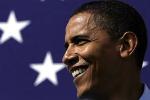 Mark Weisbrot - President Obama's re-election was never much in doubt, except perhaps briefly when he took a plunge after the first debate and we didn't know where the bottom was. But by the end of the campaign, Sam Wang of the Princeton Election Consortium was giving Obama a better than 99 percent chance of winning. Nate Silver of the New York Times, more cautious, put the odds yesterday at about 90-10 in favor of Obama. Those who point to the popular vote as evidence of a very tight contest,...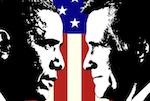 American president Barack Obama has a very small - possibly one or two percent - advantage over Republican challenger Mitt Romney and will likely just edge his way to victory, but its going to be a cliffhanger right up until the results are in, is the general consensus amongst a panel of international experts monitoring the 2012 US Election. Why then is the race between Obama and Romney so close? One view presented in this panel discussion is that the difference between the two...

It's nearing the end of 2012, and the bastion of world democracy (The United States of America) is displaying its free and open process of elections for the world to observe. As is customary every four years, the rigorous selection process has served up a number of philosopher kings and queens from which to choose. But why have so many choices when with a bit of effort you can whittle it down to two candidates and let the people pick from those? Especially when it makes for such scintillating...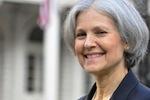 Green Party presidential nominee Dr. Jill Stein and vice-presidential candidate Cheri Honkala were arrested Tuesday as they attempted to enter the grounds of the presidential debate site at Hofstra University. Like other third-party candidates, Stein was blocked from participating in the Obama/Romney debate by the Commission on Presidential Debates, which is controlled by the Republican and Democratic parties. Stein and Honkala were held for eight hours, handcuffed to chairs. As she was being...