Keyword: roseanne barr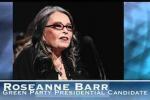 Joshua Holland - Roseanne Barr leveraged her comedic skills to become a household name. But while she's known for her biting humor, and some critically acclaimed acting in the film adaptation of Fay Weldon's novel, The Life and Loves of a She-Devil, Barr's life experiences also left her with an appreciation of just how hard it is to climb the ladder today. It was reflected in her writing; in her standup routine and on her hit TV show, Roseanne was always most comfortable breathing life into the struggles of...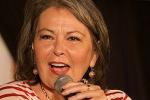 Pat LaMarche - Comedic innovator, proud grandma and self-proclaimed domestic goddess Roseanne Barr has announced her candidacy for President of the United States as well as for Prime Minister of Israel. Although some have argued that the former is so dictated to by the latter that holding both offices is unnecessarily redundant. In less than 48 hours since Barr submitted her paperwork to the Green Party, a quick web search has yielded more than seven hundred links featuring news stories or commentary....