Keyword: youth wage subsidy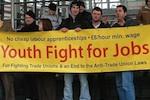 A new global study finds that 75 million youth worldwide are unemployed, which is a huge number, but James Heintz, associate director at American research organisation, Political Economy Research Institute (PERI), argues that the bigger problem is the fact that 500 million (half a billion) youth are employed in what's known as the informal economy where they are engaged in very low-quality jobs. Often youth are employed in those jobs even though they have much higher qualifications...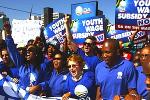 Leonard Gentle - The spectacle of the blows between a Democratic Alliance-led crowd and COSATU (Congress of South African Trade Unions) would have been the stuff of farce if it weren't so tragically unedifying. The DA has every right to march and be "provocative". COSATU's response betrays its own hard-won struggles in the past for the right to march, assemble and protest. This was no kristalnacht or fascist street gang about to storm the workers' movement. This was a DA...