Keyword: francois hollande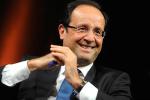 Sarah Lazare - French President Francois Hollande took the dramatic step Monday of dissolving the country's government in the midst of a heated row over unpopular austerity policies - a move that effectively forced austerity critics from their positions and created a new cabinet of loyalists. The upheaval marks the second time in less than five months that Hollande has orchestrated a shake-up of the French cabinet and comes amid rising opposition to the austerity policies of the president, whose approval...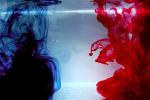 Alexander Reed Kelly - A bold experiment is under way in the world's fifth-largest economy: As part of a recovery plan aimed at plugging a $48 billion hole in the French budget, leftist President Francois Hollande announced last week a 75 percent tax on the personal incomes of anyone earning more than $1.3 million a year, effective for two years beginning in 2013. The decision has some of the country's top earners, led in the media by cosmetics tycoon Jean-Paul Agon, suggesting that the new rules...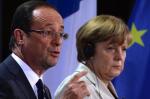 Pepe Escobar - History will register his plane struck by lightning on the way to Berlin, no fancy kisses, and asparagus with veal schnitzel on the menu. This is the way the eurozone ends (or begins again); not with a bang, but a ... lightning strike. Merkollande - the new European power couple drama interpreted by French Socialist President Francois Hollande and German Christian Democrat Chancellor Angela Merkel - is a go. Trillions of bytes already speculate whether former President Nicolas Sarkozy...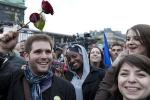 Leonard Gentle - The Presidential elections in France and the general elections in Greece are seismic events, which have significance way beyond the characters involved. After three years of austerity programmes throughout Europe characterised by billions of Euros worth of public money redirected towards protecting bankers and speculators who indulged in an orgy of reckless bond buying, people are simply defying an elite consensus. This consensus brought together all the politicians, economists and media...