Keyword: richard mdluli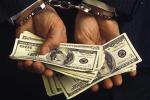 Glenn Ashton - The last few years has seen a steady procession of various shady characters from around the world paraded across our headlines and through our legal systems. So is South Africa becoming a sunny place for shady people? To be more precise, are our democratic institutions at risk from infiltration by international criminals and crime networks? Crime and corruption are ancient confederates. Apartheid South Africa was not only morally corrupt, it was corrupt to its core. Despite denials by...
Richard Pithouse - The allegations that have been levelled against Richard Mdluli are very serious. If they are true he is a dangerous man, a very dangerous man. We do need to be mindful that some of the allegations against Mdluli have entered the public domain as different factions of the police leak information and allegations against each other. But Jacob Zuma's decision to make him the head of the Crime Intelligence unit in the police is still chilling. The man is accused of kidnapping, murder, fraud,...