Keyword: Obama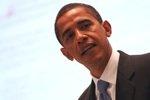 Dedrick Muhammad - The black love affair with President Barack Obama is stronger than with any figure in the post-civil rights era. According to a recent New York Times poll, President Obama enjoys a 96% approval rating among African Americans. As an African American myself, I too feel pride and joy in seeing one of us succeed and attain so much respect and acclaim in the United States, a country with such a strong and recent history of racist oppression and alienation. I also appreciate having such a...
Feminist writer Naomi Wolf discusses the ethical challenges President Barack Obama faces in dealing with special interest groups representing intelligence, surveillance and the defense industry. "I trust his intentions are good, but he's playing with fire," she says. Wolf argues that what's needed is a massive grassroots- based democracy movement to hold Obama and the American Congress' feet to the fire to keep the pressure on so that reforms are not superficial. She contends that...
On Thursday, 19 February 2009, hundreds of protestors gathered outside the offices of the New York Post for the second day in a row, after the newspaper published a cartoon caricaturing President Barack Obama as a chimpanzee. The cartoon depicts two white policemen with a smoking gun standing over the body of a dead chimpanzee, with one of the police officers saying to the other "They'll have to find someone else to write the next stimulus bill." On the page before the...
Democracy Now - South African bishop and activist, Desmond Tutu, is interviewed by Amy Goodman of Democracy Now, a television and radio news program, pioneering the largest community media collaboration in the United States and airing on over 700 stations. AMY GOODMAN: We turn now to the South African Archbishop Desmond Tutu, one of the leading voices for peace, justice and human rights around the world, a central figure in the South African struggle against apartheid. He was awarded the Nobel Peace Prize...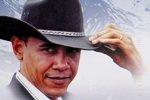 Heather Wokusch - To be honest, Obama, you lost me when you voted for the Patriot Act reauthorization in 2006. You lost me again when you voted for the Foreign Intelligence Surveillance Act (FISA) amendment in 2008. And you lost me every single time you voted for yet more war funding. Don't even get me started on your vote for the $700 billion Wall Street bailout. I cast a ballot for you in November, but I just can't share in this moment of collective euphoria over your election. So, if your transition team...
The Treatment Action Campaign (TAC) released this video of Barack Obama's visit to South Africa, where he met with the organisation in Khayelitsha, as well as visited a clinic. Obama talks to members of the TAC about HIV and AIDS in America. According to the TAC, "Obama took a strong position on preventing and treating HIV and AIDS and was critical of (former) President Mbeki and the South African government's response to the epidemic and their disregard and animosity towards the...