Keyword: french elections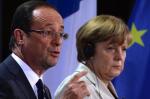 Pepe Escobar - History will register his plane struck by lightning on the way to Berlin, no fancy kisses, and asparagus with veal schnitzel on the menu. This is the way the eurozone ends (or begins again); not with a bang, but a ... lightning strike. Merkollande - the new European power couple drama interpreted by French Socialist President Francois Hollande and German Christian Democrat Chancellor Angela Merkel - is a go. Trillions of bytes already speculate whether former President Nicolas Sarkozy...

Socialist Party candidate, Francois Hollande has defeated Nicolas Sarkozy in the French presidential runoff, making him the latest EU leader to be swept aside by the crippling debt crisis. Among the first steps President-elect Hollande is planning, is to push back against German-led austerity measures. Moreover, Asia Times correspondent, Pepe Escobar argues, Hollande wants a strategic partnership with the BRICS countries. Like the BRICS group, Hollande wants an end to the dominance of the...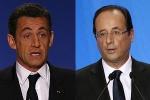 Paul Jay of The Real News talks to Gerard Duminil, economist and former research director at the Centre National de la Recherche Scientifique, about the political players in the first round of the French elections that has grabbed headlines this week and sent jitters through the markets, as incumbent president, Nicolas Sarkozy was narrowly beaten by socialist candidate Francois Holland. The two candidates will now face each other in a run off in May 2012. Although this interview with...