Keyword: martin luther king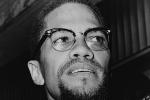 Chris Hedges - NEW YORK—Malcolm X, unlike Martin Luther King Jr., did not believe America had a conscience. For him there was no great tension between the lofty ideals of the nation—which he said were a sham—and the failure to deliver justice to blacks. He, perhaps better than King, understood the inner workings of empire. He had no hope that those who managed empire would ever get in touch with their better selves to build a country free of exploitation and injustice. He argued that from...

April 4 2012 marks the 44th anniversary of the assassination of Dr. Martin Luther King, Jr. who was gunned down in 1968 at the Lorraine Motel in Memphis, Tennessee. At the time, Dr King's every move was being tracked by the Federal Bureau of Investigation. Democracy Now! speak with journalist Tim Weiner author of, "Enemies: A History of the FBI," about the fanatical zeal with which the agency pursued the civil rights leader and peace activist. FBI Director J. Edgar Hoover saw...