Keyword: why its kicking off everywhere
Vanessa Baird - "You can't evict an idea," read a sign posted in the window of 21-29 Sun Street, in the City of London. The grey concrete office block, owned by the Swiss bank UBS, had been invaded and turned into a 'Bank of Ideas' by members of London's Occupy movement. Inside, instead of screens and monitors showing the ups and downs of the markets, walls were decorated with Banksy-style graffiti art. Where there might have been a boardroom table, ping pong...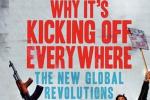 Sarah Jaffe - Journalist Paul Mason covered the uprisings of 2011 as they occurred. His new book "Why It's Kicking Off Everywhere," explains why they all happened at once. We're at an inflection point in history, a shift not just in our politics but our consciousness, says Paul Mason, BBC Newsnight economics editor, author and journalist. From Madrid to Madison, Tahrir Square to Syntagma Square, London student occupations to Occupy Wall Street, Mason has covered the uprisings of 2011, and...