Keyword: Anonymous

Ever since the January attack on French satirical magazine, Charlie Hebdo, the hacker group Anonymous has embarked on efforts to challenge the tech savvy radical Islamic group, ISIS, which does much of its recruiting via the Internet. It is argued that freedom of speech is sacrosanct for the hacker community, hence, Anonymous' motivation to get involved in the struggle against ISIS after the Paris attack. Earlier this week Anonymous released a statement which said that they had exposed or...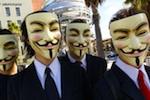 In recent years, the radical online community known as Anonymous has used its net activism to target corporations such as Sony and the Church of Scientology. Anonymous demonstrated its strength when it took down the websites of Mastercard, Visa and Paypal when these companies froze financial transactions to WikiLeaks. Along with other hacktivist groups like Telecomix, they've launched cyber attacks against foreign governments in support of the Arab Spring. Who is Anonymous?...

According to information provided on this documentary's official website, "We Are Legion: The Story of the Hacktivists is a documentary that takes us inside the world of Anonymous, the radical "hacktivist" collective that has redefined civil disobedience for the digital age. The film explores the historical roots of early hacktivist groups like Cult of the Dead Cow and Electronic Disturbance Theater and then follows Anonymous from 4chan to a full-blown movement with a global...