Keyword: BDS

Anna Majavu - Amongst the audience in Parliament's public gallery for President Jacob Zuma's State of the Nation Address (SONA) was a Palestinian freedom icon who carried with her the hopes of all Palestinians that the ANC government would begin making moves towards cutting ties with Israel. Leila Khaled, a decades-long leader in exile of the Popular Front for the Liberation of Palestine, was in South Africa, as a guest of the Boycott, Divestment and Sanctions (BDS) South Africa movement....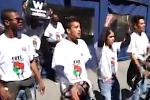 The Boycott, Divestments, Sanctions (BDS) campaign targeting Israel has embarked on a more visible programme of activism in South Africa. On Saturday, August 30, more than 40 actions were staged throughout the country. Retail giant Woolworths is being targeted for its refusal to stop stocking Israeli products from occupied Palestine. The BDS campaign aims to bring greater awareness to the plight of Palestinians in the Israeli/Palestinian conflict and peacefully demand a solution to the...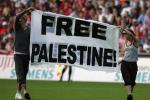 More than 60 years after the formation of the state of Israel, successive rounds of "peace talks" have yielded no settlement that is viable for the occupied people of Palestine. But, are we entering a new era? US Secretary of State John Kerry has embraced his role with a great deal of enthusiasm striking up talks between both sides again. Nevertheless, Middle East expert, Na'eem Jeenah, says we shouldn't place much hope on Kerry's efforts. The Israelis are making...
Naomi Klein delivered a speech on 27 June 2009 in Ramallah about the importance of the BDS (boycott, divestment, sanctions) campaign against Israel. Her speech was filmed in two parts. Watch part one in the clip above. To watch part two of Klein's speech, please click here. Below you will find an excerpt of her speech, transcribed by Toufic Haddad for the Faster Times and published by the Global BDS Movement. Highlighting the significance of intensifying economic sanctions...