Keyword: Chavez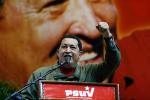 Pepe Escobar - Now that would be some movie; the story of a man of the people who rises against all odds to become the political Elvis of Latin America. Bigger than Elvis, actually; a president who won 13 out of 14 national democratic elections. No chance you will ever see such a movie winning an Oscar - much less produced in Hollywood. Unless, of course, Oliver Stone convinces HBO about a cable/DVD special. How enlightening to watch world leaders' reactions to the death of Venezuela's El Comandante Hugo...

Venezuelan president Hugo Chavez succumbed to cancer on 5 March 2013 at 16h25. Chavez left an indelible mark on Venezuela and on global politics not only for his robust focus on alleviating poverty, but also for his strong stance against American imperialism. He was particularly critical of the human cost of the global war on terror. Chavez was revered by Venezuela's poor, but reviled by its middle and upper classes, including the country's private media that actively participated in a...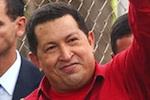 It was the toughest electoral challenge Hugo Chavez has faced since he came to power 14 years ago. But the opposition simply could not overcome his enormous popularity. Voters re-elected Chavez by a 10 per cent margin on Sunday. And it was a historic turnout with more than 80 per cent of the country's 19 million registered voters coming out to vote. Its his Bolivarian revolution that won him the support of millions. Al Jazeera's Inside Story speaks to a panel of experts about the meaning of...
The clip above is Part One of an Al Jazeera interview conducted by Riz Khan. Watch Part Two of the interview here. On Sunday, Venezuelan President Hugo Chavez won a referendum for a constitutional amendment to lift the country's presidential term limit, paving the way for him to run again in 2013. Electoral Authorities say that 54% of the electorate approved the amendment to the constitution to remove the presidential term limit. Chavez's critics, who include former Venezuelan trade...
Actor and filmmaker, Sean Penn talks about his meetings with two Latin American leaders - Chavez and Castro - who have both been demonized by the mainstream press in the United States of America. Penn talked to Raul Castro of Cuba about Barack Obama and Guantanamo, while engaging Venezuela's Hugo Chavez on the subject of human rights. To read Penn's article Conversations with Chavez and Castro, please click here.