Keyword: Anglo American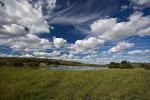 Tristen Taylor - An unholy alliance has come together on a Limpopo farm within the Waterberg District, about 60km from the town of Lephalale and a short drive from the border with Botswana. Anglo American Thermal Coal and India's Vedanta Zinc International have combined to produce a climate-killing and water-guzzling industrial machine: Anglo will open a new coal mine and Vedanta will use that mine's dirtiest coal - discards unfit even for Eskom's power stations - to produce 600MW of electricity. On the...
Glenn Ashton - During the peak of the anti-apartheid disinvestment campaign the Anglo-American Corporation took full advantage of the situation and snapped up disinvesting companies. By the 1990's Anglo American controlled 85% of the companies and over 60% of the wealth of the Johannesburg Stock Exchange, making it the biggest economic beneficiary of apartheid. Through its diversified holdings it controlled vast sectors of the economy. Besides mining it was involved in forestry, paper, retail, car...