Keyword: revolution

In this animated representation of his talk, philosopher and author Roman Krznaric explains how we can bring about social change by stepping outside ourselves. If the 20th century was the age of introspection, then the 21st century needs to be one of "outrospection". The ultimate art form of outrospection is empathy. Empathy is about a revolution in human relationships. We often think of empathy as happening between two people, but it can also be a collective force that...

Icelandic People Said No - In Europe, people in many countries are saying no to paying for the crisis and bailing out the banks, and to a large extent, leading the way, are the people of Iceland -- at the ballot box and on the streets. Michael Hudson, professor of economics at University of Missouri, Kansas City provides some insights into how exactly the Icelandic people have gone about holding their government accountable. "What happened in Iceland is being used as a test case for what is happening in Greece...

Deena Stryker - An Italian radio program's story about Iceland's on-going revolution is a stunning example of how little our media tells us about the rest of the world. Americans may remember that at the start of the 2008 financial crisis, Iceland literally went bankrupt. The reasons were mentioned only in passing, and since then, this little-known member of the European Union fell back into oblivion. As one European country after another fails or risks failing, imperiling the Euro, with...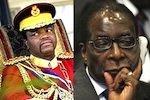 Imraan Buccus - People's power has arrived in Africa and, as some have recently argued, it's not just Africa north of the Sahara in which the democratic spirit is stirring. The thrilling political earthquake that began in Tunisia, exploded into Egypt and then rippled out to Libya is set to leave lasting changes in its wake. Its too early to say exactly what those changes will be but one thing is for sure – this is the greatest moment in the global struggle for human freedom since 1989 when the Soviet...

Inspired by Events on Tahrir Square, Egypt - American protestors have occupied the state building for 15 days in Madison, Wisconsin, in protest against anti-union legislation that would make collective bargaining illegal for public sector unions. On Saturday, 100,000 people packed the streets of Madison in the largest rally seen in years, as they challenged Republican governor, Scott Walker's attempt to strip public employees of their rights. Protests have entered their third week -- and...

Libya is on a knife's edge with many predicting the imminent ousting of the country's dictator, Muammar Gaddafi, who has ruled over the country for 42 years, as high-level diplomats desert Libya's autocratic regime. In a desperate bid to cling to power, the Gaddafi regime has cracked down on anti-government demonstrators in the most brutal manner, killing an unconfirmed number of protestors. The unrest has reached the capitol city of Tripoli and reports have emerged that protestors have...