Keyword: Dilma Rousseff
Pepe Escobar - Sun, sex, samba, carnival and at least until the World Cup hammering by Germany, the "land of football". And don't forget "vibrant democracy". Even as it enjoys one of the highest soft power quotients around the world, Brazil remains submerged by cliches. "Vibrant democracy" certainly lived up to its billing as President Dilma Rousseff of the ruling Worker's Party (PT) was re-elected this Sunday in a tight run-off against opposition candidate Aecio Neves of...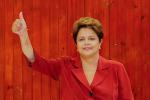 Emile Schepers - The incumbent president, Dilma Rousseff, of the left leaning Workers' Party (Partido dos Trabalhadores or PT) won a close election on Sunday, defeating right winger Aecio Neves, of the so-called Social Democratic Party (PSDB) by a margin of about three million votes, or 51.56 percent to 48.52 percent in this huge country of 200 million people. Rousseff won most of Brazil's 26 states including Minas Gerais, Neves' home state where she was the governor from 2003 to 2010. ...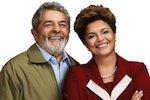 Democracy Now - In Brazil, some 135 million voters cast ballots on Sunday in a closely watched presidential election. Dilma Rousseff, the leading candidate to succeed President Luiz Inácio Lula da Silva, won the race but failed to gain the 50 percent of votes needed for an outright victory. If Rousseff wins the runoff, she will become the first woman to lead Brazil, the world's fourth most populous democracy. for some insight into the consequences of these election results, Amy Goodman of...