Keyword: China
Alexander O'Riordan - While the 'Rhodes Must Fall' protestors have successfully toppled the Rhodes statue at the University of Cape Town, the latest signs are that the global economic order is only getting stronger albeit with a few changed faces. In much the same way that replacing statues of old white capitalists with that of new black capitalists does not change the rules of the economy, so too is there growing evidence that China and other emerging economies are tracking closer and closer to...

While studying future alternatives for China's global relations, former Australian Prime Minister Kevin Rudd has come to an ominous conclusion: conflict is looming. As China's global ambitions grow, it finds itself on a collision course with the United States. How can this be avoided? Rudd is a long-time student of China, with a unique vantage point to watch its power rise in the past few decades. Drawing on his deep knowledge of Chinese culture, language and history he argues that the...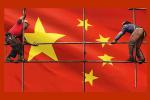 Saliem Fakir - Decline can happen rapidly and all before one's eyes. Sometimes the response to it can be slow and even result in total neglect. First, there's denial or the inability to speak up. Then there's some acceptance that things are not going well and finally there may be a belated attempt at collective mobilisation to tame the rot gripping the sinews of political and economic institutions. It can come just in time or be too little too late. China pulled itself out of the ashes...

China is sitting on a mountain of cash and there is speculation that the country is going on a trillion dollar spending spree. Jonathan Fenby, managing director of China Researcher, says that there's going to be big outward investment from China into resources in Africa and Latin America. Meanwhile whilst making plans to revive the old silk route from East to West, China is also buying up companies around the world. China's president, Xi Jinping, is considered to be the most...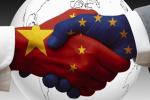 Pepe Escobar - November 18, 2014: it's a day that should live forever in history. On that day, in the city of Yiwu in China's Zhejiang province, 300 kilometers south of Shanghai, the first train carrying 82 containers of export goods weighing more than 1,000 tons left a massive warehouse complex heading for Madrid. It arrived on December 9th. Welcome to the new trans-Eurasia choo-choo train. At over 13,000 kilometers, it will regularly traverse the longest freight train route in the...
Pepe Escobar - A specter haunts the fast-aging "New American Century": the possibility of a future Beijing-Moscow-Berlin strategic trade and commercial alliance. Let's call it the BMB. Its likelihood is being seriously discussed at the highest levels in Beijing and Moscow, and viewed with interest in Berlin, New Delhi, and Tehran. But don't mention it inside Washington's Beltway or at NATO headquarters in Brussels. There, the star of the show today and tomorrow is the new...