Keyword: IBSA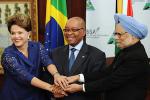 Alexander O'Riordan - In 1995 the World Bank took the rare step of commissioning a documentary on its negotiations of a structural adjustment programme in Uganda. The documentary crew followed negotiations for six months in Uganda and at the Bank headquarters in Washington D.C., having access to meetings at the highest level such as between the presidents of Uganda and the World Bank. The documentary demonstrates that that there is never really any doubt about whether the World Bank will provide funding to Uganda...
Saliem Fakir - The recent spat between South Africa and Brazil over poultry raises the spectre of how self-interest can bedevil unity in newly formed geo-political forums, such as BRICS (Brazil, Russia, India, China and South Africa) and IBSA (India, Brazil and South Africa). South Africa accused Brazil of dumping chickens onto our market and thus causing harm to our poultry industry. Brazil initiated a World Trade Organization action after South Africa imposed import tariffs on Brazilian chicken....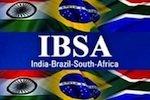 Saliem Fakir - They go by different names: IBSA (India, Brazil and South Africa), BRIC (Brazil, Russia, India, and China) and BASIC (Brazil, South Africa, India and China). These formations all amount to more or less the same thing: the new "emerging economies" seeking to redefine relations between themselves and the rest of the world. They are widely seen as new symbols of power in the global arena. The shaping of the alliances between these powerful new emerging economies raises...