Keyword: islamophobia
John Feffer - In the first Crusade, on their way to fight the Muslim infidels in Jerusalem, the armed pilgrims asked themselves a provocative question: Why should we trek so far to kill people we barely know when we can just as well massacre infidels closer to home? And thus the crusaders of the 11th century embarked on some of Europe's first pogroms against Jews. These anti-Semitic rampages in the heart of the continent had the added advantage of helping to finance that first Crusade, as the...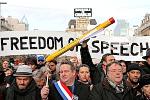 Fazila Farouk - There likely aren't many journalists, bloggers, cartoonists or comedians anywhere in the world who don't feel a connection with the massacred staff of French satirical publication Charlie Hebdo. These are the men and women of the world who regularly scale the chillingly exposed platform of public opinion to hold a mirror to the world. It's a frightening space to inhabit in a world of such diversity and difference of opinion. One never really knows how those whom one has...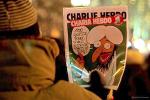 Juan Cole - Sharif and Said Kouachi, the two brothers for whom the French police are searching, were born in Paris of Algerian parents, Mokhtar et Freiha Méguireche, according to a profile published by Le Monde. Said was born in 1980. Sharif was born in 1982. The brothers were poor and unemployed. Sharif did not finish school. The Kouachi brothers sometimes delivered pizza to make a little money. They were involved in petty crime as teenagers. Then in early...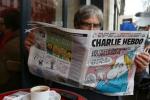 At least 12 people have been killed in a shooting attack on a French satirical magazine in Paris. Witnesses say masked gunmen entered the offices of the magazine, Charlie Hebdo, and opened fire. The dead include four cartoonists and two police officers. The magazine Charlie Hebdo has drawn multiple threats for its caricatures of the Prophet Muhammad. In 2012, the magazine's cartoon depicting Muhammad in pornographic poses helped spark protests across the Middle East. Democracy Now!...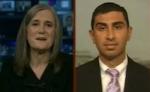 A new report by the Center for American Progress called "Fear, Inc.: The Roots of the Islamophobia Network in America" shows how a small group of self-proclaimed experts backed by a host of donors are spreading fear and hostility toward Muslims in the United States. According to the report, these so-called experts peddle Islamophobia in the form of books, reports, websites, blogs and carefully crafted anti-Islam talking points. It also notes that right-wing Norwegian murderer...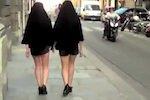 When the French ban on the niqab was passed into law last year, two French students protested the ban by donning niqabs and hot pants to test the reaction of French authorities. The women, both students in their 20's, stomped around Paris targeting the administration buildings of French authorities, notably the immigration office. The French niqab ban went into effect on 11 April 2011. According to the Telegraph, the women call themselves the "Niqabitches" and...