Keyword: Tony Blair

On February 15, 2003 the British Stop the War Coalition held a protest in London against the War in Iraq, which the BBC estimates was attended by a million people. It remains the largest protest in the UK's history. Globally, up to 30 million people in 800 cities are said to have protested that weekend in a co-ordinated effort against the war. This includes Antarctica where 70 scientists and colleagues demonstrated on the ice forming a peace sign. Nine years in the making and released last...

David Cornwell, the legendary British novelist who writes under the name John le Carré, is interviewed by Amy Goodman of Democracy Now in London. A former British spy, his books include The Spy Who Came in from the Cold, Tinker, Tailor, Soldier, Spy, and The Constant Gardener. On the heels of the publication of British Prime Minister Tony Blair's Iraq war-defending memoir, A Journey, le Carré explains why he refused to interview Blair and why he won't be reading his...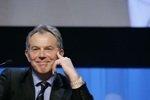 Eamonn McCann - It would surely be perverse of Radovan Karadzic to challenge Tony Blair for the presidency of the EU and risk splitting the war criminal's vote. A record as a war criminal will hardly enhance any candidate's chances. But neither does it seem to be widely regarded as an impediment. "There should be some mistakes too big to recover from," muses Guardian columnist Jackie Ashley. "But (that) is not quite the end of the matter. If politicians have to struggle with competing evils...