Keyword: copyright reform

In 2006, Rick Falkvinge, a Swedish software entrepreneur, founded a new political party centred around the subjects of file sharing, copyright and patents. He called it the Pirate Party and it rose to prominence after a government crackdown on the file-sharing site, the Pirate Bay. Since then, the Pirate Party has swept Europe and beyond to become an international political movement, active in 40 different countries with representation in the European parliament. The Pirate Party fights...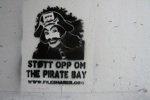 David Bollier - A lot of politics comes down to making a point through colorful theatrics and stories. By that reckoning, Sweden's Pirate Party deserves an Oscar for the edgiest, most innovative and dramatic advocacy since Abbie Hoffman's Yippie Party ran a pig for president in 1968. This time, however, the "pirates" are actually electing their own to serious positions. The story starts with a website that inspired the Pirate Party, Pirate Bay a frankly subversive file-sharing...