Keyword: environmental justice
Glenn Ashton - Both the ruling African National Congress (ANC) party and the South African flag have prominent splashes of green featuring in their respective colour scheme. After 1994 the new government was keenly focussed on demonstrating its green credentials in line with our constitutional commitment to environmental protection and sustainable use of our diverse natural resources. Twenty years into democratic experiment we need to reassess how green our political commitment remains. Liberation...
Saliem Fakir - Environmentalists in South Africa are largely seen as lone and desperate voices. Often they are perceived to be white and middle-class, but that is changing slowly. Environmentalists remain at the margins of the mainstream economy and outside of key decision-making channels. Where they cannot control the excesses and harm belched out of the belly of a gluttonous economy, they mop up the aftermath. Their fire fighting battles range from dealing with issues such as acid mine drainage to...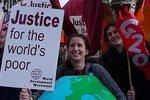 Democracy Now - Tens of thousands of protesters from around the world have gathered in London to demonstrate against the G20 talks and call for economic justice and environmental accountability. Amy Goodman of Democracy Now interviews Walden Bello of Focus on the Global South to get his perspective on the G20. *** AMY GOODMAN: President Obama is in London today ahead of the G20 summit, where world leaders are gathering to discuss the global economic crisis. It marks Obama's first trip to Europe since...
The 'Story of Stuff' is a 20-minute documentary examining the underside of our production and consumption patterns and exposing the connections between a huge number of environmental and social issues. Produced by Annie Leonard, The 'Story of Stuff' is a rivetingly entertaining excursion through the supply and demand chain of our consumerist culture.