Keyword: UN Racism Conference
Laura Flanders of GRITtv talks to Glen Ford, executive editor of the Black Agenda Report about the implications for racism in America with regard to the Obama administration's decision to "boycott" the United Nation's Racism Conference, also known as Durban II, which took place in Geneva last week. What follows below is a transcript of the interview. LAURA FLANDERS: Glen to you. I mean after this brouhaha and President Ahmedinejad's speech, Robert Gibbs of the US...
The Real News Network provides this clip in which President Barack Obama defends America's decision not to attend the United Nation's (UN) Racism Conference. Billed as the Durban Review Conference, the conference hosted by UN High Commissioner for Human Rights, Navi Pillay, opened in Geneva today. Obama's statement, transcribed below, is somewhat vague in its justifications. However, the one thing that does come out clearly in the subtext of his statement is his administration's...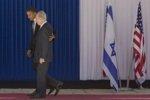 Stephen Greenberg - The way Barack Obama handled Israel and the Middle Eastern crisis was always going to be a litmus test of his ability to really change mainstream politics in the US. However, recent events indicate his unwillingness - or incapacity - to take on the powers that be in Washington and to forge a new, honest direction in US politics. Notable amongst these events was the US administration's early March decision to boycott the UN's World Conference against Racism billed as the Durban Review...