Keyword: agriculture
Stephen Greenberg - The Economic Freedom Fighters (EFF) has identified "expropriation of South Africa's land without compensation for equal redistribution in use" as one of the party's "seven non-negotiable cardinal pillars for economic freedom in our lifetime". To realise this goal, the EFF's national assembly held in December 2014 passed resolutions on land. The resolutions are very schematic, with only seven points, although they do provide some indication of the...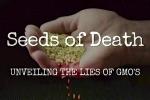 Glenn Ashton - In order to address Africa's poor agricultural productivity international players are intent on criminalising traditional seed saving practices. This thrust is directed by a triumvirate of corporate interests, actively assisted by first world governments and front organisations parading as non-governmental organisations. Africa lies at the frontier of international agricultural intervention for several reasons. Firstly the continent lags badly in agricultural productivity. This is...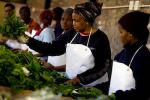 Glenn Ashton - South Africa is a harsh country, a place of extremes. Producing sufficient food for our people has always been a difficult challenge. The new Minister of Agriculture, who can only be an improvement on the previous incumbent, is an interesting choice. Senzeni Zokwana is the national chairperson of the South African Communist Party, as well as having headed up the National Union of Mineworkers. He has no background in agriculture, in common with his deputy, ex-Police commissioner Bheki...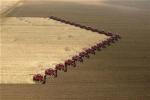 Glenn Ashton - Over the course of the past century our food supply has shifted from local to global. Most food our grandparents ate was grown regionally, often by neighbourhood farmers. Today our food comes from across the world. More importantly, it is often produced in highly destructive ways, at the lowest possible cost. Consequently our food production system is responsible for accelerating the rate of destruction of the very ecosystems we are reliant upon in order to maintain our delicate global...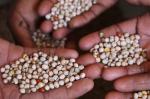 Glenn Ashton - Seed and the control of seed lies at the heart of agriculture. In Africa around 80% of seed comes from local and community saved seed resources. This seed is adapted to local conditions. It forms an integral part of community food security and agricultural integrity. This entire traditional system is now under threat. A broad front of commercial interests, aided and abetted by the World Bank, the American Seed Association and government agencies, along with front groups, academics and...
Glenn Ashton - Exploitation and pay in the timber industry is the most extreme amongst any commercial sector in South Africa. While mining and agriculture workers have been in the news for protesting against exploitation in their respective industries, no such action has been evident amongst forestry workers. Working in the timber industry is the equivalent of running a marathon every day. Workers experience some of the highest rates of work related injuries, along with the lowest pay. There was a...