January 2010
Visit the archives.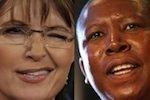 Saliem Fakir - If there were to be a beauty contest, Sarah Palin (formerly Governor of Alaska) would win over ANC Youth League President, Julius Malema by far in the looks department. However, as political celebrities for a growing anti-intellectual movement in two different parts of the world, they share a real and symbolic place in contemporary popular culture and politics. Palin, like Malema, shows no great intellectual curiosity. Their erudition of complex geopolitical and economic issues is not going...
Isobel Frye - "It happens that you see it is better that the little ones eat and you can stay as you are, and there is nothing that you can do, and when the children ask why is it that mommy is not eating, you will say that you will eat after them. My son eats tea and the crusts of the pap, he is 28 years old and he has tried to get work and vacancies are scarce. The biggest problem is that he does not have matric and I can see when I look at him that he longs to eat like other people, but all...
Dubbed the "half-mile high tower," at 828 metres, Dubai's recently completed Burj Khalifa is the world's newest tallest building. Professor Philip Goad, Professor of Architecture at the University of Melbourne, Australia, argues, "Modern skyscrapers are simply 'very large consumer objects' that value excess over practicality and often indicate approaching economic doom. High-rises like the new Burj Khalifa in Dubai are a 'result of too much money...and too...
Glenn Ashton - The latest catastrophe to hit Haiti has motivated massive responses from a shocked global population. It is hard to believe that an entire nation can be rendered so utterly helpless that they are functionally unable to assist themselves in any meaningful way. But the earthquake of January 13, 2010 is just the latest in a series of body blows to the poorest nation in the western hemisphere. By all accounts Haiti should be a shining beacon of hope, of democracy and an example of the...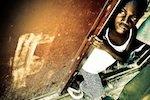 Richard Pithouse - The devastation of Haiti is not a simple matter of bad luck. Earthquakes, like storms and epidemics, hit the poor with vastly more force than the rich. Much of the press coverage of the catastrophe in Haiti has wilfully disregarded the history of how Haiti was made poor and kept poor by, above all, the same American elites that are now dispensing charity, soldiers and advice. Racism has often been close to the surface or even grinning hideously far above it. In London Sky News reported that...
Michael T. Klare - As the second decade of the twenty-first century begins, we find ourselves at one of those relatively rare moments in history when major power shifts become visible to all. If the first decade of the century witnessed profound changes, the world of 2009 nonetheless looked at least somewhat like the world of 1999 in certain fundamental respects: the United States remained the world's paramount military power, the dollar remained the world's dominant currency, and NATO...