July 2008
Visit the archives.
Benjamin Dangl - In early July in Sicaya, Cochabamba, Bolivian President Evo Morales announced that if he wins the August 10 recall vote on his presidency, "I'll have two and half years left." But if he loses the vote, "I'll have to go back to the Chapare" to farm coca again. Though the recall vote is likely to favor Morales, it's unclear if it will resolve many of the divided nation's conflicts. This upcoming recall vote on the president, vice president and eight of nine departmental...
Jean Triegaardt - The first decade of democratic dispensation in South Africa was hailed in many ways as an economic success. Macroeconomic stability was restored, the country's debt level was reduced to internationally accepted norms, and the country attained an investment-grade credit rating. Growth was high in 2005, there were capital inflows and the rand was strong at that time. As a result of these achievements, economic growth and employment were finally beginning to increase, with observers, as...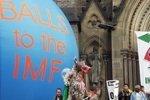 Robert Weissman - Tuberculosis, a treatable disease, kills 1.7 million people a year worldwide. TB incidence, according to the World Health Organization seems to be correlated to broad social factors, like access to clean water and sanitation, HIV incidence and national health expenditures. A just published study in the journal PLoS (Public Library of Science) Medicine investigates the role of a different possible explanatory factor: the International Monetary Fund (IMF). The researchers' study focuses...
International NGO, GRAIN, argues that the food crisis facing the world and particularly the developing world can be linked to more than three decades of IMF and World Bank inspired structural adjustment programmes. The current problem is more than one of a food shortage or a price blip. It is one where the food system is experiencing a structural meltdown. At the same time, big profits are being made by several food corporations and investors.
The National Labour Committee puts a human face behind the global economy which the big companies try to hide. Bangaldeshi garment workers work 20 hours in a 24 hour cycle, then take an hour's break and push on for another 16 to 18 hours, producing clothes for the American market. There are 1.8 million garment workers in Bangladesh, mostly young women. Eighty percent of them are between the ages of 16-25.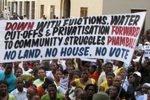 Richard Pithouse - The crisis of social exclusion in our cities is a key factor in the ferment in grassroots political society. It has been central to much popular protest in recent years, to the emergence of well organised grassroots movements to the left of the ANC and, also, the catastrophic pogroms in May. Thabo Mbeki and Jacob Zuma both support a coercive response to this crisis. Their support for legislation to eradicate shack settlements is, ultimately, support for the state to send in men with...