Keyword: University of Stellenbosch

Rhodes University student, Malaika wa Azania, has published her first book, Memoirs of a Born Free. In this candid interview with Samantha Moolman of Creamer Media, she talks about being young and black in post-apartheid South Africa. According to 22-year-old wa Azania, black youth are not born free in post-apartheid South Africa. The term "born free" is a false thesis because "the constructs that defined apartheid South Africa continue to define post-apartheid South...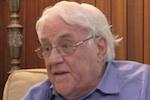 On 1 August 2013, SACSIS' Fazila Farouk spoke to renowned social commentator, author and public figure, Professor Sampie Terreblanche, who has spent many years researching and writing about South Africa's poverty and inequality. Terreblanche argues that the ANC's embrace of the neoliberal approach for economic development is the wrong model for South Africa. He argues further that the ruling party has used the public purse to facilitate an elite transition through black...