Keyword: Sarah Palin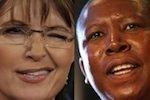 Saliem Fakir - If there were to be a beauty contest, Sarah Palin (formerly Governor of Alaska) would win over ANC Youth League President, Julius Malema by far in the looks department. However, as political celebrities for a growing anti-intellectual movement in two different parts of the world, they share a real and symbolic place in contemporary popular culture and politics. Palin, like Malema, shows no great intellectual curiosity. Their erudition of complex geopolitical and economic issues is not going...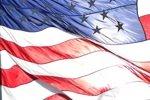 Robert Jensen and Pat Youngblood - We have nothing against voting. We plan to vote in the upcoming election. Some of our best friends are voters. But we also believe that we shouldn't make the mistake of thinking that the most important political moment in our lives comes in the voting booth. Instead, people should take politics seriously, which means asking considerably more of ourselves than the typical fixation with electoral politics. First, we won't be coy about this election. Each of us voted for Obama in...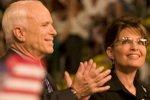 Steven Rosenfeld - Editors Note: You may also be interested in reading Top Ten Most Disturbing Facts and Impressions of Sarah Palin Is it ethical to support Sarah Palin? Five Reasons the World Wants Obama to Win How Obama Lost the Election Deepak Chopra - Obama and the Palin Effect and The world's verdict will be harsh if the US rejects the man it yearns for ********** Alaska Gov. Sarah Palin accepted the 2008 Republican vice-presidential nomination Wednesday night in a confident and insistent address...