Keyword: George Bush

On February 15, 2003 the British Stop the War Coalition held a protest in London against the War in Iraq, which the BBC estimates was attended by a million people. It remains the largest protest in the UK's history. Globally, up to 30 million people in 800 cities are said to have protested that weekend in a co-ordinated effort against the war. This includes Antarctica where 70 scientists and colleagues demonstrated on the ice forming a peace sign. Nine years in the making and released last...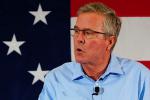 The Iraq War has become a major issue in the U.S. 2016 presidential election. Reversing an earlier stance supporting the Iraq war, under immense pressure for the statement, Jeb Bush, Republican presidential hopeful and brother of George W. Bush, recanted days later saying that he would not have invaded Iraq if he had known President Saddam Hussein did not have weapons of mass destruction. Meanwhile a former CIA official and intelligence briefer to President George W. Bush acknowledged that...
Medea Benjamin - Sometimes it just takes one person with a creative mind to shake up the entire legal system. In the case of Costa Rica, that person is Luis Roberto Zamorra Bolanos, who was just a law student when he challenged the legality of his government's support for George Bush's invasion of Iraq. He took the case all the way up to the Costa Rican Supreme Court—and won. Today a practicing lawyer, Zamorra at 33 still looks like a wiry college student. And he continues to think...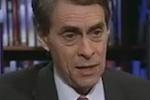 The military tribunal established to prosecute the five leading suspects in the September 11th attacks opened this weekend at Guantánamo Bay. During a nine-hour hearing on Saturday, the five prisoners refused to enter pleas on murder and terrorism charges, or to talk or listen to the judge, in what one of their lawyers explained was a "peaceful resistance to an unjust system."Defense attorneys say the trial for the five leading suspects in the September 11th attacks is rigged...

Acclaimed journalist, author and political activist, Barbara Ehrenreich, explores the darker side of positive thinking. Ehrenreich finds a pattern in many aspects of life that demands mandatory optimism. Embedded in this is the idea that a person can change the physical world with their thoughts. According to Ehrenreich, there are two problem with this. Firstly, it is delusional and delusion is a mistake. She links delusions of positive psychology to the financial meltdown of...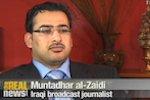 Throwing my shoes at Bush was a natural reaction to the killing of a million Iraqis and the orphaning of five million Iraqi children, says Muntadhar Al-Zaidi the television journalist who achieved worldwide fame for his brave act aimed at avenging Iraqi's for America's unjust war of aggression. By flinging his shoes at him, Al Zaidi was sending Bush an unmistakable farewell message -- that he and his army were never welcomed by the Iraqi people, despite Bush's claims to the contrary. Al...