Keyword: adversarial journalism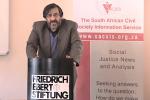 In late July 2014 SACSIS hosted a reflection workshop for our team of writers. Prof. Steven Friedman, Director of the Centre for the Study of Democracy at the University of Johannesburg, was asked to initiate the discussion with a lecture on the question: "What is the role of the social justice commentator in public interest journalism?" Friedman framed his address around the question, "How do ideas change society?" His key argument was that change is a complex and...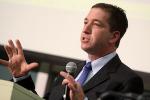 Michael Albert - Glenn Greenwald and Michael Albert discuss the difficulties of doing good journalism within the confines of mainstream media, secrecy and corporations and Greenwald's new media project - The Intercept. MICHAEL ALBERT: Glenn, you have been asked over and over about journalism, with the questions often coming from folks eager to somehow discredit you as being too concerned or too involved, and therefore not reliable as a journalist. So I have a question for you about journalism - but coming...