Keyword: Scarlett Johansson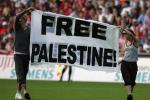 More than 60 years after the formation of the state of Israel, successive rounds of "peace talks" have yielded no settlement that is viable for the occupied people of Palestine. But, are we entering a new era? US Secretary of State John Kerry has embraced his role with a great deal of enthusiasm striking up talks between both sides again. Nevertheless, Middle East expert, Na'eem Jeenah, says we shouldn't place much hope on Kerry's efforts. The Israelis are making...
Brian Walt - Massachusetts did not have a team in this year's Super Bowl. And last week brought news that Boston-based Oxfam America would not have an Oxfam ambassador appearing in a Super Bowl commercial either. Scarlett Johansson's work for SodaStream violated the anti-settlement and anti-discrimination principles of the international Oxfam confederation. As a consequence, Johansson chose her hefty contract with SodaStream over the social justice work of Oxfam. As a rabbi...