Keyword: un climate conference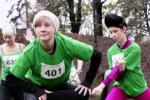 On the first day of the U.N. Climate Meeting in Warsaw, young people from around the world joined with the newly formed Polish Youth Climate Network to release a climate video mocking the coal industry and promoting a clean energy future. The title of the video, "Race for Energy Independence," is a play on the Race for Independence, a running race that takes place on November 11 in Warsaw every year to commemorate Polish independence. In the video, young people compete in a...
Glenn Ashton - This week the latest round of climate negotiations, the 19th Conference of the Parties (COP19) is meeting in Warsaw Poland, to grapple with the stalled Climate Change Convention. At the opening of the conference Dr Alicia Illinga, a Filipina delegate highlighted how her country had already been hit by 22 typhoons this year. The devastating Typhoon Haiyan, the most powerful typhoon to have ever made landfall, hit the Philippines on the eve of the conference, causing thousands of fatalities and...